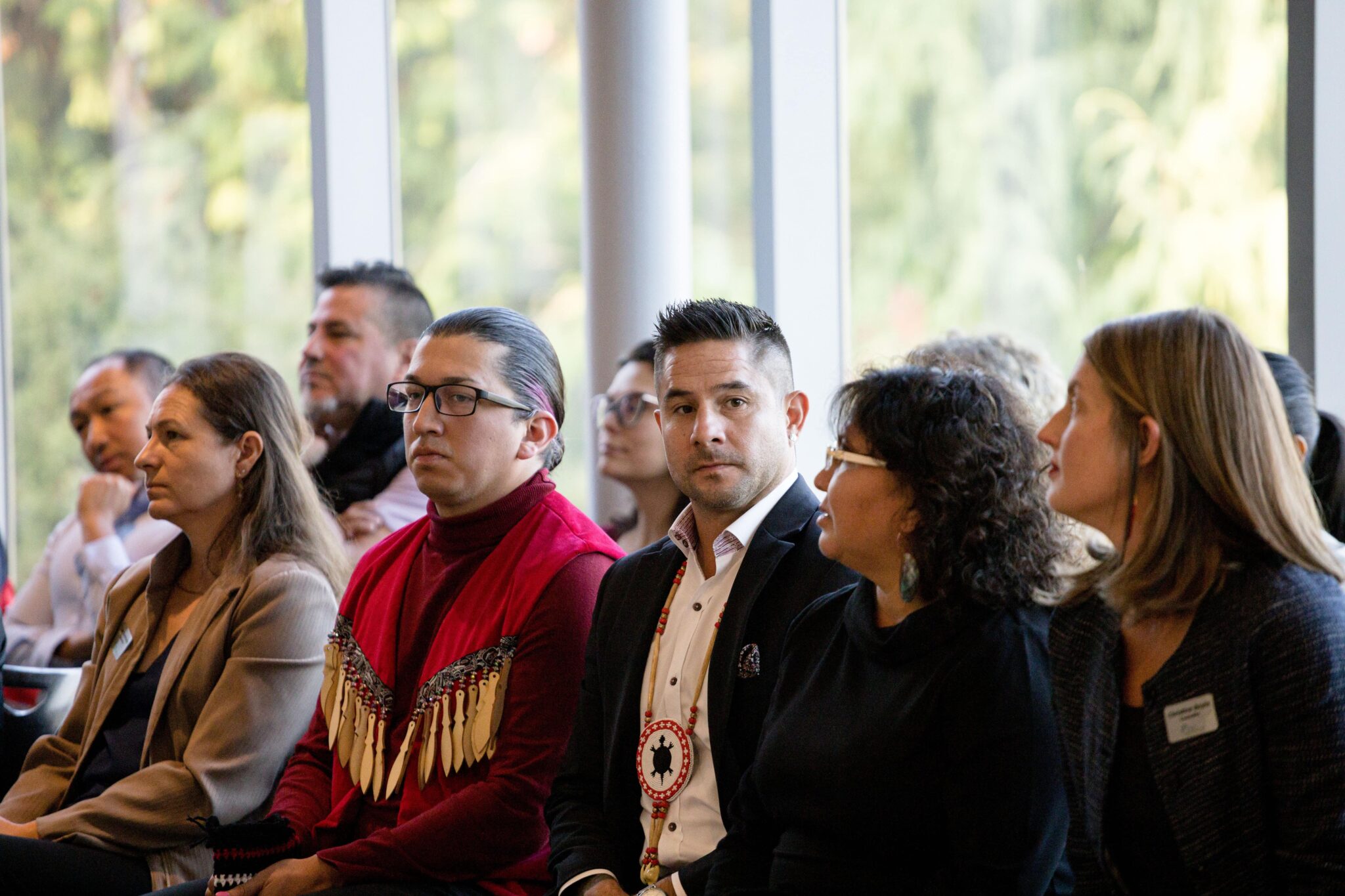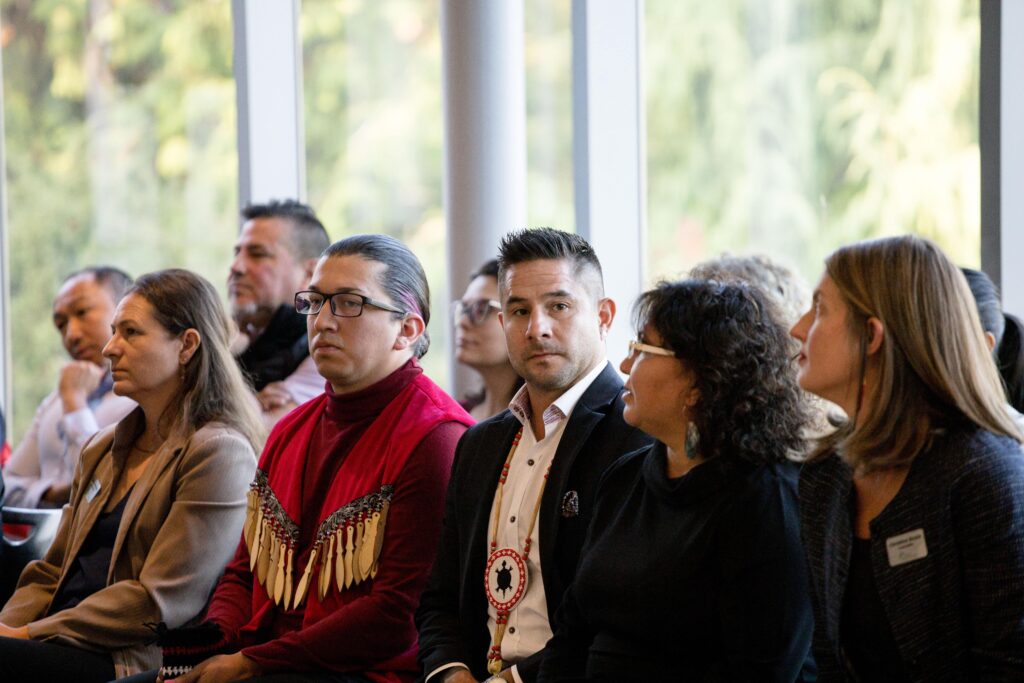 On October 19, 2022, members of the Musqueam Indian Band, Squamish Nation, and Tsleil-Waututh Nation alongside City of Vancouver elected officials, staff, and invited guests celebrated the release of the City of Vancouver's UN Declaration on the Rights of Indigenous People (UNDRIP) Strategy. The event included a ceremony led by the three Host Nations, to call upon witnesses to verify this report's historic unveiling.
The Strategy was developed by an Indigenous-led Task Force that met regularly since 2021 to develop recommendations on how the City of Vancouver can implement UNDRIP across City departments, a critical aspect of its work on Indigenous relations and reconciliation. Tsleil-Waututh Nation Council members as well as staff were integral to the development of the Strategy.
The process was truly collaborative in nature and was led by Co-chairs Squamish Nation Chairperson Khelsilem and City of Vancouver Councillor Christine Boyle. The Task Force acknowledges the important work that Musqueam, Squamish, Tsleil-Waututh, and Vancouver have done to bring the work forward. The process was rooted in relationship building, listening, and open dialogue, with a clear goal to work towards the systemic shifts and healing necessary for a shared path forward. The respective Nation's Councils reviewed and endorsed this Strategy before presenting it to the City of Vancouver.
This is the first co-developed strategy in Canada on UNDRIP and goes far beyond accepting UNDRIP principles. Consistent with the BC Declaration on the Rights of Indigenous Peoples Act (Declaration Act), the UNDRIP Task Force has identified 79 specific calls to action under four key themes, grounded in UNDRIP articles and rights:
1.    Social, cultural, and economic well-being
·       Calls to action:
o   Social
o   Cultural
o   Economic


2.    Ending Indigenous-specific racism and discrimination
·       Calls to action:
o   Environmental Racism
o   Leases Housing and Land
o   Service Provision
o   Policing


3.    Self-determination and inherent right of self-government
·       Calls to action:
o   Revenue Sharing with the Nations
o   Disposition of City owned Lands/Repatriation of Lands to Nations
o   Shared decision making
o   Musqueam, Squamish, and Tsleil-Waututh inclusion on Metro Vancouver Board and other regional boards


4.    Rights and title of Indigenous People
·       Calls to action:
o   Inclusion of Indigenous Legal Traditions
o   Support for Cultural Practices and Land Back
o   Establishment of Institutions for Musqueam, Squamish, and Tsleil-Waututh members to learn Traditional Ways
o   Involvement and Voice of the diverse Indigenous populations living in the city

Tsleil-Waututh Nation Councillors Charlene Aleck and Dennis Thomas are members of the City's UNDRIP Steering Committee.
Councillor Charlene Aleck shared: "Having the representation of the Musqueam, Squamish and Tsleil-Waututh within their territories and being prevalent in not only the land…art, or the culture that's present within the city, but being present at tables and implementing our Coast Salish laws in economic [ways], in education, in corporations, organizations and it cascading down into all the other fields within the city."
Councillor Dennis Thomas stated: "The economic and revenue sharing is one thing that I'd like to see being fulfilled. And another one is the generational transformative work that we've put into this document needs to be shared with different organizations, different committees and different workforces like the parks board and VPD."


Tsleil-Waututh Nation Chief Jen Thomas also shared this statement: "I am thrilled by the release of the UNDRIP Task Force's ground-breaking report. These 79 calls to action will guide the City of Vancouver to implement its UNDRIP strategy, ensuring that issues of well-being, racism, self-determination, and the rights and title of Indigenous peoples are addressed over time. The UNDRIP strategy is representative of the transformative work that is possible with government-to-government relationships between the City of Vancouver and Musqueam, Squamish, and Tsleil-Waututh Nations, and I hope this good work continues. A decision by city council to adopt this report will have a ripple effect on other jurisdictions across Metro Vancouver and the country."

The report will be presented to Vancouver City Council on October 25th, 2022 with a recommendation to endorse the Strategy. If approved, an action plan would be developed. Adoption of this report and the 79 calls to action would be generational and transformative. Critically, it would help fulfill the Task Force's goal to see Indigenous Peoples achieving full enjoyment, as a collective or individuals, the rights articulated in United Nations Declaration on the Rights of Indigenous Peoples across Vancouver.