Climate Change Resilience Planning (CCRP) Process
In 2018, Tsleil-Waututh Nation (TWN) embarked on a phased, community-based Climate Change Resilience Planning (CCRP) process (see figure below). This work produced a values-based assessment of the impacts of sea level rise, increased precipitation, rising temperatures, and changing oceanic conditions on key TWN community sectors; and a climate action toolkit to guide TWN climate action over the next 10 years and beyond. Phase 1 and 2 of the CCRP are now complete and TWN is working to implement the community's climate change action and energy reduction objectives and strategies (Phase 3).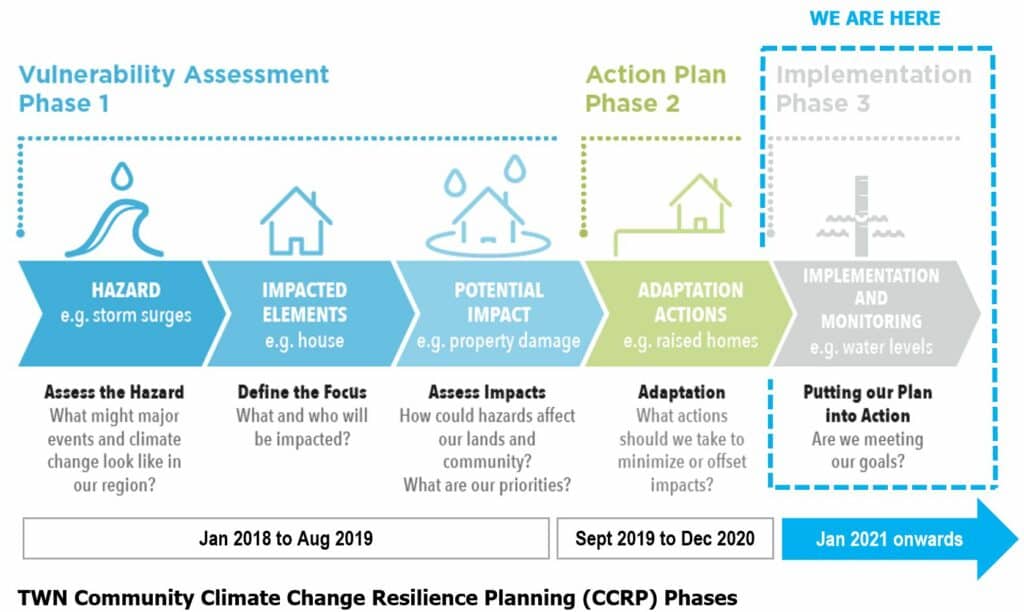 Current Implementation (Phase 3) Initiatives
Climate Change and Community Health
This is a joint Public Works/Health and Wellness project to understand, plan for, and mitigate climate change impacts on TWN community health.
Check back here for more details and how to share your ideas (to be announced).
Collaborative Shoreline Adaptation Conceptual Planning – We are working with the community and other partners to envision what a coordinated, resilient and healthy shoreline of future could look like.
Click here to learn more about the project.
Click here to see how to be involved, and to share your ideas and input.
Community Energy Planning – Building on the TWN GHG baseline inventory, we will soon start to develop a TWN Community Energy Plan. Stay tuned for more information coming soon.
Climate Change Advisory Committee
In January 2020, TWN established a community-based Climate Change Advisory Committee (CCAC) that has, and continues to provide valued guidance and input to staff on the development and implementation of TWN climate change plans and energy management programs. CCAC meetings take place approximately once per month (currently online), and are open to all TWN community members. Please let us know if you are interested in attending a meeting, or joining the CCAC.
Upcoming Events and Opportunities for Community Involvement
Stay tuned for more information as to how you can be involved in upcoming TWN climate action and energy management events.
Contact Information
Climate Action & Sustainability Manager
TWN Public Works Department