Meet the Tsleil-Waututh Nation Chief and Council. Their term runs from July 1, 2021, to June 30, 2025. To contact TWN Chief and Council, please reach out to communications@twnation.ca
Learn about TWN Chief and Council's Mission, Vision, Core Values, and much more in the 2022 to 2025 Strategic Plan ʔəxʔixəltəl̓ [Paddling Together]. The Strategic Plan is a way forward that will build upon our past work and take the Nation forward into an even brighter future for all Tsleil-Wautt people.
2021 Elected Chief & Council Members
Charlene Aleck – Councillor
Deanna George – Councillor
Liana Martin – Councillor
Kevin O'Neill – Councillor
Curtis Thomas – Councillor
Dennis Thomas – Councillor
Chief Jen Thomas
Chief Jen Thomas is a proud member of the Tsleil-Waututh Nation and daughter of former Chief Maureen Thomas and Stanley Thomas. She leads various community events like the annual Christmas Craft Fair and baby celebration. She was instrumental in working with families to open Registered Education Savings Plan accounts, so children will have secure funding for post-secondary education. Jen believes the success of our youth is the success of the nation and works to help TWN youth reach their full potential.
She has also worked with various First Nations organizations in the past two decades, including the BC Aboriginal Fisheries Organization, First Nations Summit, Assembly of First Nations, and BC Childcare Society, which has expanded her insight into First Nations governance and strengthened her leadership capacity in the community.
Her goals for the future are to see all our members thrive; bring our people together for more good times, rather than sad occasions; find more resources for people with disabilities and chronic diseases; learn as much as possible about our members' experiences; and find more training opportunities for members to hold top positions within our nation.
Councillor Charlene Aleck
Charlene Aleck is the daughter to (late)Joe & Irene Aleck (nee George). Her maternal grandparents are Chief Dan & Amy George (nee Jack). Her paternal grandparents are Fred (Kiahu) Cheer & Cecelia Thomas (nee Aleck). Charlene's siblings are Joey, John, Jim, Andrea, and Jeff. Her children are Justine, Hillary, Ocean, and Sara and her granddaughter, Miya. 
Charlene has forever been an advocate for our people and environment in all the things she has done in her life. 
She has a background in acting. On a TV series, she remained a principle character for 15 years. She accredits this experience to move onto many performance roles locally and  internationally. 
Owner and operator of successful businesses, Charlene helped start from the ground up: Eaglestar Productions – Grip equipment rental company for the film industry, Red Raven Catering Co., Chief Dan George Production Co. (two other companies she had but later dissolved).
Charlene currently works as a spokesperson for TWN's Sacred Trust Initiative, and has been a core team member of Sacred Trust, with revolving responsibilities and titles over the past 8 years. This included meeting and speaking with Company Executives on NYC Wallstreet, Switzerland, Germany & England, regarding their investment in the TransMountain pipeline & Tanker expansion project. 
Charlene is thoroughly invested in culture and tradition, and making a difference for our people and creating a way forward for all.
She is serving her fourth term as Elected council. 
Councillor Deanna George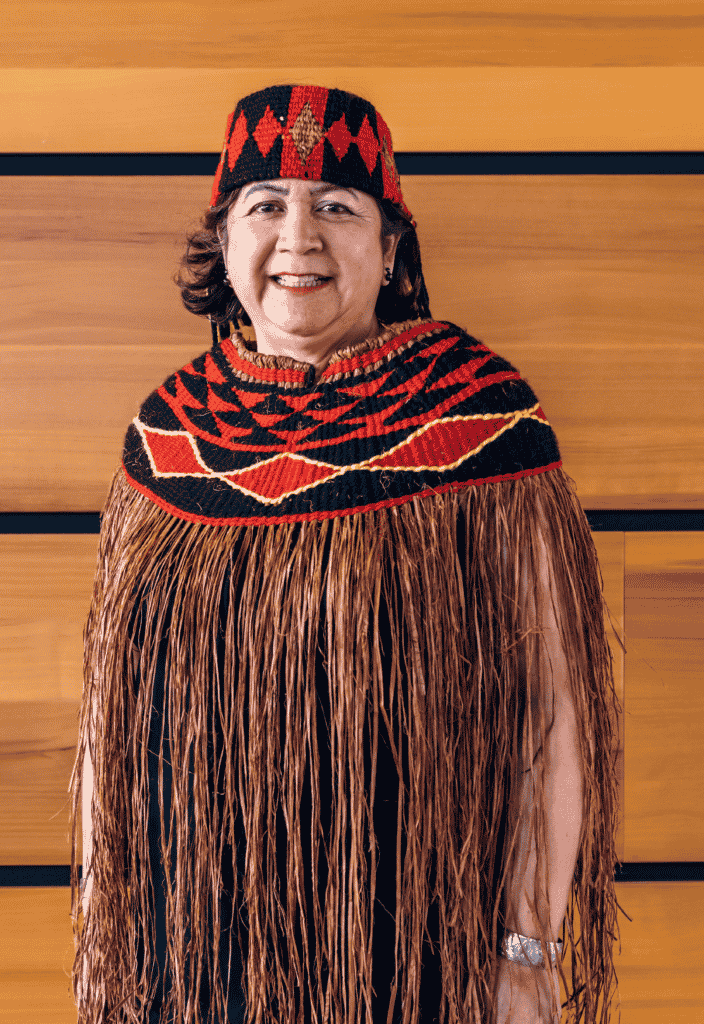 Deanna Bridgit George is a member of the Tsleil-Waututh Nation. She holds two ancestral names: Halat and Tewalewet. Deanna is proud of her culture and heritage. She has been a member of both the Children of Takaya dance group and the Burrard Canoe Club since a young age.
Elected in 2013, she is serving her fifth term. From 2013-2017, she held the Community Development portfolio. In 2017 – 2019, our Council rotated portfolios and with that time period Deanna has held:  Community Development, Public Works, Health, and Treaty, Lands & Resources.
Encompassing the very core values of our nation, our elders, youth, health and wellness, education, employment, she has quickly become knowledgeable in the Nation's strengths as well as providing guidance in areas that require improvement.
Deanna has worked for the Tsleil-Waututh Nation (TWN) since 1996. She started as a Receptionist and is now both a Lands Officer 3 & Data Management. Her other work in the community includes: being a member of the Comprehensive Community Planning Committee, which brought together our members to document our Nations vision, goals and priorities for the future; and the Membership Working Group.  This work continues to support her in her role on Council.
As an avid soccer player, coach and canoe club member, who continues to support all community sports in various ways, she was, deservingly so, the recipient of the Remarkable Woman Award in Sports in 2010.
Deanna, in her many roles is most proud of her role within her family. She is the youngest daughter of Ernest and Deanna George. She and her spouse Bill Thomas have been together for 40 years and have four children and four grandchildren, all of which have been raised at Tsleil-Waututh.
Councillor Liana Martin
A glimpse into what makes Liana who she is:  Her grandparents are Alexander Guss & Dorathea Charlie (step Danny Charlie Sr.) and George & Susan Batt (nee Charlie) (step Lillian Batt nee Sam).  Her parents are Ernest (Boydie) A. Guss – Ma tuh luk and Elsie D. Guss (nee Batt) – Wa Cha Wat. Liana's ancestral name is Wa Cha Wat, which means 'she who helps' or 'helping woman'.  Her mother carried this name and it was placed on her by our Joseph family of the Squamish Nation. Liana's siblings placed her late mothers name on her, after she transitioned to spirit world.  Liana grew up in our Tsleil-Waututh territory, where the beach and forest were our playground. She harvested shellfish – clams, oysters, and crab with her dad.  Previous to this current term, she served 18 years on elected council (not consecutively), proudly putting one foot in front of the other, further beautifying our Community.  She sat at and assisted with the first CCP, Land Use Plan and TWN Community Society Board.  Liana has a business management certificate, has held first aid, food safe and responsible adult certificates.  She has had the opportunity and very much enjoyed learning some of our hən̓q̓əmin̓əm̓ language.
Liana has spent almost 18 years in the Community Development Department. She started training in Education K to Post Secondary when she was in high school, as a summer position, with late Auntie Vivian.  She has worked within Community Development as a homemaker with our elders, at ChildCare Centre and with Education.
On April 1, 2021, Liana moved to Treaty, Lands & Resources as a Referrals Analyst.  Important work, as stewards of our land and waters. She assists with important cultural work with our community and her immediate family, by helping with Cultural burnings. Liana assists in looking after our Ancestors as they look after us, here on earth, this work also connects us with our Ancestors.  She is honoured to represent each of you, her Tsleil-Waututh family at the Council table for the next 4 years. She thanks all who showed your support by voting for her.  Each day she will place one foot in front of the other and do her best to represent our members and Nation in a good way. True Leaders practice the 3 R's:  Respect for Self, Respect for Others and Responsibility for all their actions.  
Hay cep' qa – Thanking all of you my relations.
Councillor Kevin O'Neill
Kevin O'Neill is the son of Barbara (nee Thomas) and Michael O'Neill and the grandson of the late Rosemary and Leslie Thomas. His three siblings are Tanya, Michael JR "Smokey" and Shane. His grandparents were the late Rosemary and Leslie Thomas on his Mother's side and the Late Edward and Eileen O'Neill on his father's side. 
Kevin obtained a Bachelor's Degree in Communication Studies from Capilano University, spending the last 3 years of the program on the Dean's list. He also obtained two diplomas from BCIT; one in Digital Marketing & Social Media and another in Event Management in Special Projects. Kevin has worked in Communications for the last 7 years. His passions within his profession are: Digital Marketing, Social Media Marketing, Graphic Design and Event Management. 
Kevin worked with the TWN Youth Leadership Committee for the last 3 years before running for a seat on Council. He hopes to encourage other TWN youth to work towards running for Chief and Council and to gain the strong skill set that he hopes that he will obtain in his time with Council. 
Kevin is excited and honoured to be working with other strong members during his first term on Chief and Council. He is one of the youngest to be elected into Chief and Council and is a proud Tsleil-Waututh Nation member.  Kevin is looking forward to being the youth voice for the TWN members.
Councillor Curtis Thomas
Curtis' grandparents are Les and Rose Thomas on his father Ed's side, and Ken and Bernadette Helfrich on his mother Lynn's side. He was born and raised in the TW Nation and is very proud to call it home.
He is a Red Seal certified plumber and a "B" level certified gas fitter, gaining both certifications from BCIT. He is the owner of Warrior Plumbing and has worked in the industry for 15 years.
Curtis is extremely honoured to be elected in his second term of council, and is very excited to work with fellow distinguished Chief and Council members. He looks forward to being a positive voice in the community, and help others understand that we are all stronger when we stand together.
Councillor Dennis Thomas
Dennis Thomas "Whonoak" is a member and an elected Councillor of the Tsleil-Waututh Nation (People of the Inlet) in Deep Cove, North Vancouver.  Dennis began working for his community in 2007 as the 2010 Coordinator for the Vancouver 2010 Olympic and Paralympic Winter Games. Since then, Dennis pursued business with his Nation and managed several band owned businesses including Takaya Tours, an internationally recognized Indigenous tourism business. This is where he connected with his cultural roots and now is a cultural ambassador in his community. He strives to embed his Nations culture in all areas so that the ancestral knowledge is awake and alive. He also led new business ventures including implementing the largest Solar array project to date in the North Shore which inspires him to practice and implement green energy. 
Most recently, as a consultant, he was TWN Cultural Liaison for MST Development Corporation where he ensures Tsleil-Waututh Nations history and culture are at the forefront and rooted in the building structure, architectural design, and the overall public realm.
He holds an MBA from Simon Fraser University specializing in Indigenous Business Leadership. He is also a 2021 recipient of Business in Vancouver's Top Forty under 40.