Tsleil-Waututh Nation's Treaty, Lands and Resources (TLR) department has recently completed several marine restoration projects that took place over four years in protecting Burrard Inlet. These projects were done to help restore the health of Burrard Inlet by providing habitat for fish and other critters.
Hillary Hyland, TLR's Senior Environmental Specialist and a TWN member, states that "the inlet is still very much alive." She shares that her late uncle had encouraged having a bright, healthy community with our neighbours surrounding TWN's traditional territory. In acknowledging him, she says that the work of TLR is all about bringing this to the heart of the inlet.
Since, TLR has been partnered with SeaChange Marine Conservation Society on the Burrard Inlet component of the Salish Sea Nearshore Habitat Recovery. This program included three components: marine debris removal, eelgrass restoration, and restoration of native plants along coastlines. That work also engaged twenty-two other organizations.
Lindsey Ogston, TLR's Environmental Program Manager, notes TWN's long-standing work with SeaChange has included surveying the entire coast of Burrard Inlet for eelgrass between 2015 and 2021. Our work together has resulted in an increase in eelgrass abundance and density, and in finding more opportunities to engage in surveying, mapping, and restoration of important marine and coastal habitats.
TLR Projects
TLR's Senior Marine Ecosystem Specialist, Anuradha Rao, facilitates much of TWN's marine restoration work, stating that these projects have resulted in:
Transplants nearshore of 4,010 eelgrass shoots, to restore marine ecosystems in front of TWN's reserve and near Whey-ah-Wichen (Cates Park). Eelgrass is a type of seagrass that grows here in the inlet. Eelgrass beds, also called 'fish nurseries', provide an important fish habitat, including for juvenile salmon to hide and feed. TWN children, youth, Elders, staff, and other community members took part on shore by preparing the "donor" eelgrass shoots to be transplanted in the ocean by divers, creating a shared intergenerational activity of traditional, environmental, and cultural knowledge exchange. (see images below)
Donor eelgrass shoots prepared by TWN community and staff being stored in the ocean, prior to being transplanted by SCUBA divers
SCUBA diver planting eelgrass; the fish have already found It! (Photo Credit: Jamie Smith, Coast Photo Studio)
Eelgrass ecosystems are Important fish habitat (Image courtesy of SeaChange Marine Conservation Society)
Removal of 36 tonnes of creosote from the Inlet to help bring back herring. This included removal of creosote pilings from Indian Arm. Creosote is toxic to fish (and humans); if fish spawn on a creosote piling, the eggs do not survive. A phenomenal amount of herring roe was spotted in the Indian Arm by Field Crew in the months following the creosote removal. (see images below)
Divers observing the return of herring spawn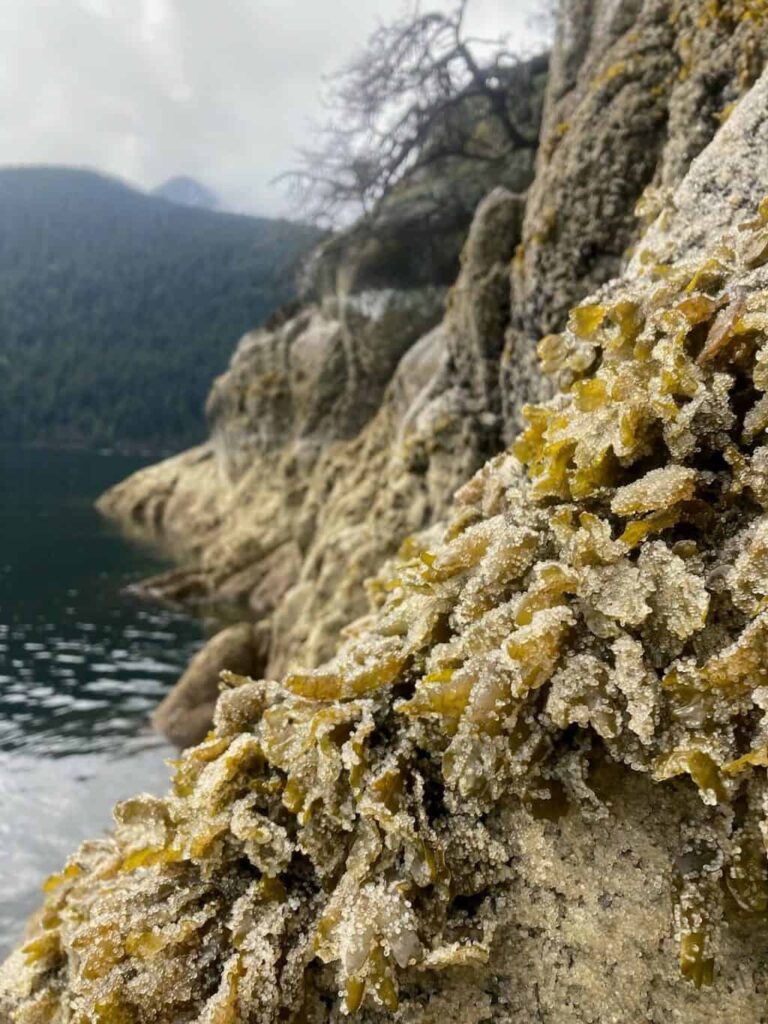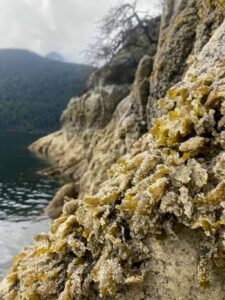 Herring roe on rockweed
Restoration of about 800 marine riparian plants at Granite Falls with TWN's siʔáḿθɘt School students and Elders. Shoreline plants provide shade on beaches where certain types of fish lay their eggs. Without shade, the eggs "cook' in the sun and don't survive, so the marine riparian plants contribute to fish habitat. (see images below)
TWN youth and Elders at Granite Falls
Restoration at Granite Falls
TLR & siʔáḿθɘt School
TLR, SeaChange, TWN cultural leaders, and siʔáḿθɘt School students and staff joined a small gathering in December 2022 to honour this work. Zarah Martz, siʔáḿθɘt Vice Principal, shared that these collaborative opportunities between youth and TLR continue to be "some of the most connected and wholesome learning opportunities for the school", with TWN youth from ages 4 to 18 having participated in this learning.
In acknowledging TWN's knowledge keepers and cultural leaders, siʔáḿθɘt School Principal Tanya O'Neill said that the cultural knowledge wealth they generously share is what stays with the students. "The students hear you, it's like they feel it, and they really grasp what they're learning."
Gabriel George, Director of TLR and a TWN cultural leader, stated that this collaborative work in protecting the shoreline, Inlet, and Arm also brings healing. "The work of our children and the work of our land is integrated. It's decolonizing our approach and practices. [TLR and siʔáḿθɘt School] have brought that back together, making the work whole. We need to integrate more, because that's our [traditional] way. The health of our people is connected to the health of the land and Inlet."
As we look towards the future, restoration projects and collaborations like these give our community opportunities for growth towards self-determination. We honour the TWN youth who are already guiding us towards protecting and caring for TWN's traditional territory, for this work to continue throughout generations to come.
Thank You
TWN would like to thank the contributing external organizations who have supported TLR's work with Tsleil-Waututh Nation over these previous four years:
SeaChange Marine Conservation Society, Fisheries and Oceans Canada, Musqueam Indian Band, Squamish Nation, siʔáḿθɘt School, Inlailawatash Limited Partnership, BC Parks, Vancouver Park Board, City of Port Moody, City of Vancouver, District of North Vancouver, District of West Vancouver, Vancouver Fraser Port Authority, Ecowaste, Pacific Salmon Foundation, Seaspan, Summit Earthworks, Vancouver Pile Driving, Bin There Disposal, Deep Cove Yacht Club, Wild Bird Trust, & Wigwam Inn
hay čxʷ q̓ə