Flags representing the xʷməθkʷəy̓əm (Musqueam), Sḵwx̱wú7mesh (Squamish), and səlilwətaɬ (Tsleil-Waututh) Nations were permanently raised on May 16, 2023 at a historic event at spapəy̓əq Pápiy̓eḵ, commonly known as Brockton Point in Stanley Park.
The event marks the first time the Host Nations' flags have been permanently raised in a park in the City of Vancouver. The work was six years in the making, led by staff from the three Host Nations and the Vancouver Board of Parks and Recreation, as part of the Stanley Park Intergovernmental Working Group.
Tsleil-Waututh Nation Chief Jen Thomas shared how "displaying the səlilwətaɬ (Tsleil-Waututh) Nation's flag, alongside the flags of our relatives Squamish and Musqueam, at spapəy̓əq Pápiy̓eḵ, a place enjoyed by the local community and visitors throughout the year, is one way that Tsleil-Waututh Nation is putting the face of our Nation back on our traditional territory."
Tsleil-Waututh Nation Councillor Dennis Thomas reflected upon how "these Musqueam, Squamish, and Tsleil-Waututh Nation flags represent our shared territory, they are grounded here at spapəy̓əq Pápiy̓eḵ. This used to be a large, culturally significant village site for our Nations. Pre-contact, Tsleil-Waututh Nation, and our relatives Squamish and Musqueam, would trade goods with other nations who were not from this area." He highlighted the importance of the event: "For us to be represented as family (alongside Squamish and Musqueam) and with the Park Board is an important part of history. For our Tsleil-Waututh members, this is an act of pride; it teaches youth that our people lived here and had a vibrant economy here for thousands of years."
In his opening remarks, Gabriel George, Tsleil-Waututh Nation cultural leader and TWN Treaty, Lands, and Resources Director, stated: "Our Tsleil-Waututh Elders worked here, lived here, and some of our most important sacred ceremonies happened at this site (spapəy̓əq Pápiy̓eḵ). This is a significant spot – there are millions of people that come through this park and they do not know it's an ancestral site for our people." He went on to speak about how Tsleil-Waututh has many strong ties with Musqueam and Squamish: "We're paddling together, our three nations. I'm thinking of my late father (Leonard George) and how much he loved his Squamish and Musqueam family."
Debra Sparrow, a knowledge keeper with Musqueam Indian Band, shared how her great grandmother, Matilda, along with her husband, were forcibly removed from this area. She stated: "There is so much work to do, all of us, and this is how it begins to shift."
Wilson Williams, Squamish Nation Elected Councilor & Spokesperson, described carrying negative trauma, but spoke of the strength, especially of Elders, to persevere through the challenges of colonialism.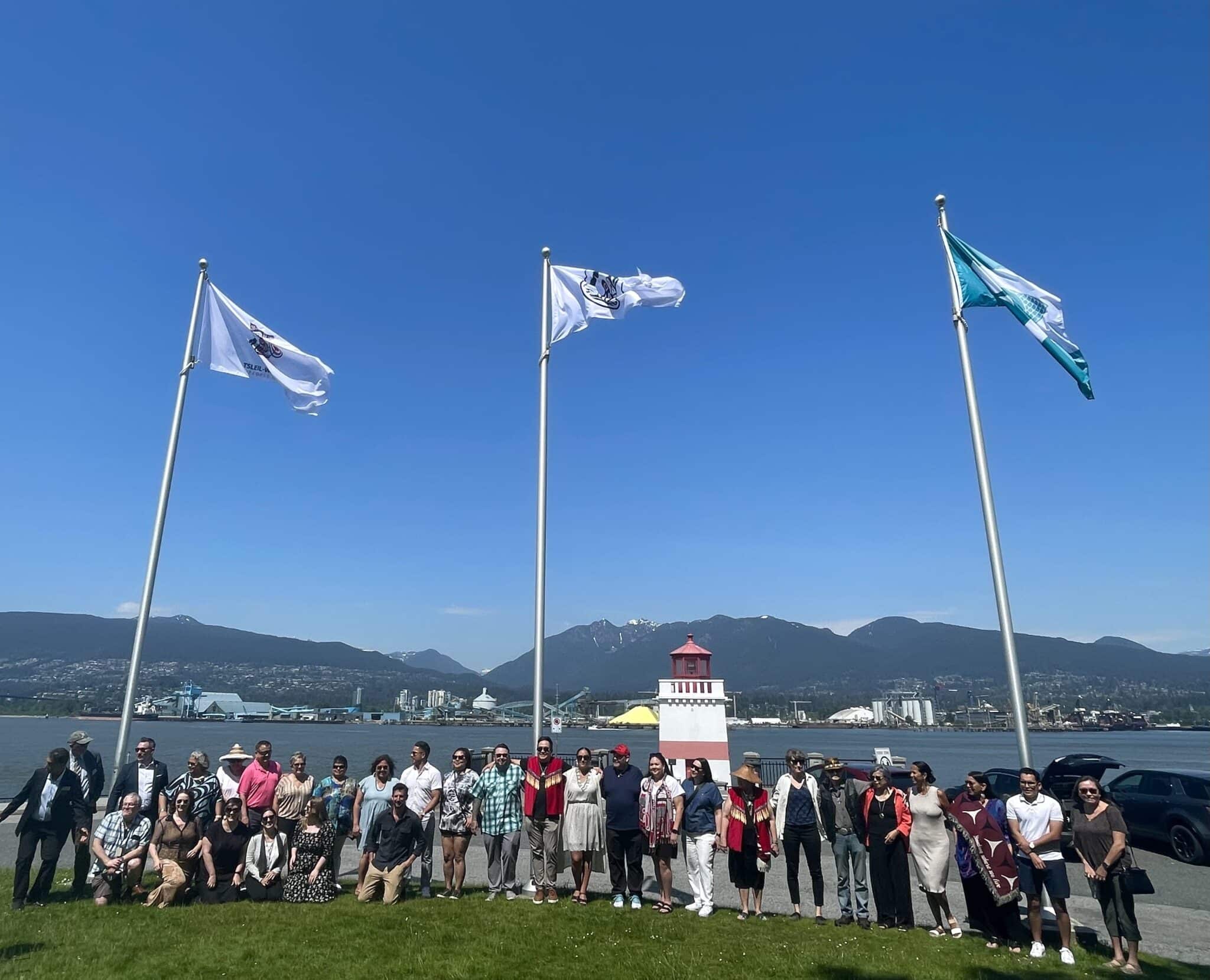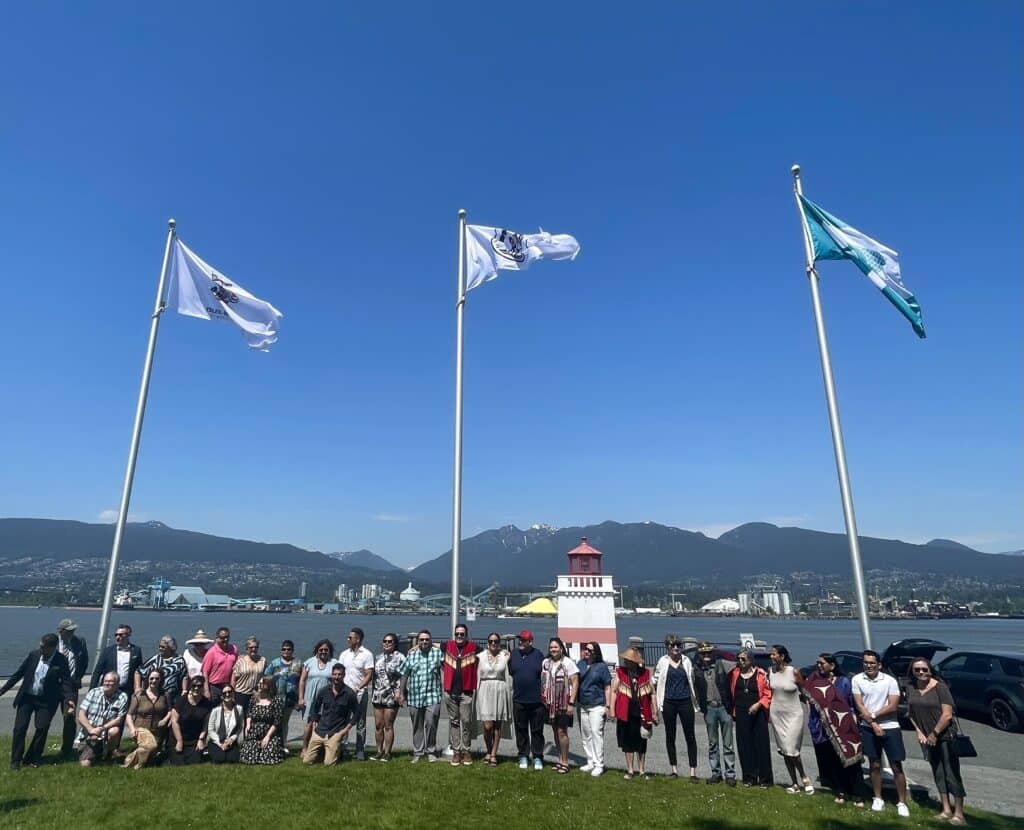 In 2017, Park Board staff removed three flag poles displaying Canadian, British Columbian and Union Jack flags at Brockton Point, due to ageing infrastructure and safety issues. The Stanley Park Intergovernmental Working Group advised to replace these flags with those of the local Nations to acknowledge the Nations' long-standing connection to the area, which was approved by the previous Park Board in 2022. At the event, Vancouver Park Board Chair Scott Jensen declared how "these flags symbolize our commitment to reconciliation and decolonization."
In closing remarks, Tsleil-Waututh Nation Chief Jen Thomas reflected on how "15 years ago we weren't at a place when we (our MST families) could come together like we are today. So I want to acknowledge our relationship with Musqueam and Squamish because the three of us are making history, not only here in Vancouver, but across Canada and the world."
The work of the intergovernmental group will continue, as they have identified additional opportunities to redress colonial actions and the erasure of the Indigenous Host Nations' presence in Stanley Park through acknowledgement and increased visibility of Musqueam, Squamish, and Tsleil-Waututh in the park.