Tsleil-Waututh Nation Elected Chief and Council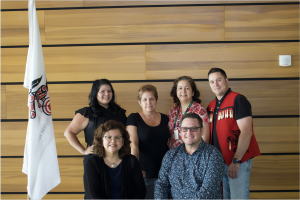 Chief Leah George-Wilson
Leah George-Wilson was the first woman to be elected Chief of the Tsleil-Waututh Nation in 2001.  She served 2001-2003, and 2005-2009.  Her ancestral name is Sisi-ya-ama, which was given to her by her late Grandmother. Leah holds a bachelor's degree in Anthropology from Simon Fraser.  Upon graduation, she began working for the Tsleil-Waututh Nation in 1992.  She began as a Researcher and helped with Elder interviews for the different Specific Claims and litigation.  Eventually she rose to Negotiator on the Dollarton Specific Claim as well as at the Treaty Table. Leah became the Director of Treaty, Lands and Resources in 2001, a position she held for 9 years. Leah left TWN to go to UBC Law School full-time in 2010, after working for the people for 18 years..  She graduated, articled and was called to the Bar in British Columbia in January 2015.  She has worked as a lawyer since then. Leah is proud of being a member of the Tsleil-Waututh Nation, lives in the community along with her immediate family.  She is married and has a lovely daughter.
Councillor Deanna Bridgit George
Deanna Bridgit George is a member of the Tsleil-Waututh Nation. She holds two ancestral names: Halat and Tewalewet. Deanna is proud of her culture and heritage. She has been a member of both the Children of Takaya dance group and the Burrard Canoe Club since a young age. Elected in 2013, she is serving her fourth term. From 2013-2017, she held the Community Development portfolio. In 2017 – 2019, our Council rotated portfolios and with that time period Deanna has held:  Community Development, Public Works, Health and Treaty, Lands & Resources. Encompassing the very core values of our nation, our elders, youth, health and wellness, education, employment, she has quickly become knowledgeable in the Nation's strengths as well as providing guidance in areas that require improvement. Deanna has worked for the Tsleil-Waututh Nation (TWN) since 1996. She started as a Receptionist and is now both a Lands Officer 3 & Data Management. Her other work in the community includes: being a member of the Comprehensive Community Planning Committee, which brought together our members to document our Nations vision, goals and priorities for the future; and the Membership Working Group.  This work continues to support her in her role on Council. As an avid soccer player, coach and canoe club member, who continues to support all community sports in various ways, she was, deservingly so, the recipient of the Remarkable Woman Award in Sports in 2010. Deanna, in her many roles is most proud of her role within her family. She is the youngest daughter of Ernest and Deanna George. She and her spouse Bill Thomas have been together for 40 years and have four children and four grandchildren, all of which have been raised at Tsleil-Waututh.
Councillor Curtis Thomas
Curtis' grandparents are Les and Rose Thomas on his father Ed's side, and Ken and Bernadette Helfrich on his mother Lynn's side. He was born and raised in the TW Nation and is very proud to call it home. He is a Red Seal certified plumber and a "B" level certified gas fitter, gaining both certifications from BCIT. He is the owner of Warrior Plumbing and has worked in the industry for 15 years. Curtis is extremely honoured to be elected in his first term of council and is very excited to work with fellow distinguished Chief and Council members. He looks forward to being a positive voice in the community, and help others understand that we are all stronger when we stand together.
Councillor Jennifer Thomas
Jennifer is a proud member of the Tsleil-Waututh Nation and daughter of former Chief Maureen Thomas and Stanley Thomas. She leads various community events like the annual Christmas Craft Fair and baby celebration and was instrumental in working with families to open Registered Education Savings Plan accounts, so children will have secure funding for post-secondary education. Jen believes the success of our youth is the success of the nation and works to help TWN youth reach their full potential. She has also worked with various First Nations organizations in the past two decades, including the BC Aboriginal Fisheries Organization, First Nations Summit, Assembly of First Nations, and BC Childcare Society, which has expanded her insight into First Nations governance and strengthened her leadership capacity in the community. Her goals for the future are to see all our members thrive; bring our people together for more good times, rather than sad occasions; find more resources for people with disabilities and chronic diseases; learn as much as possible about our members' experiences; and find more training opportunities for members to hold top positions within our nation.
Councillor Vanessa Gonzalez
Vanessa Gonzalez is a proud Tsleil-Waututh community member, Mother, and Elected Councillor. Currently, Vanessa works for TWN in the Health Department as a Peer Support Worker. She has been an employee of the nation since 2003 and in that time, she has worked in a variety of different areas, such as; the daycare, land office, and communication department. Her work in these areas has given her insight into all departments and has allowed her to develop a strong working relationship with staff. Since becoming a mother Vanessa's perspective on the future has adapted. She wants to improve services and procedures so that not only her child can have a bright future, but all nation members. Her healthy household approach is a tactic she wants to expand to the broader community. Vanessa is proud to serve the community she lives in and is pleased to work with the other elected officials to serve and benefit Tsleil-Waututh.       
Councillor Justin Sky George
Qut-same, Justin Sky George, Son of Susan George and late Leonard George and late Grandparents Amy (Jack) George and Chief Dan George and late Rob and Betty Edge. He is extremely proud and honoured to be serving as elected Council for the Tsleil-Waututh Nation for his seventh term of which two terms he had served as Chief. He has a deep-rooted love for the members and his family of the Tsleil-Waututh Nation and a deep rooted connection and respect for the Coast Salish Culture! He is a hunter, fisherman and business man who carried the Economic Development portfolio and worked in the TWN Economic Development Department for a combined twenty plus years. Justin received a scholarship for Ice Hockey to play Division 1 Men's Ice hockey in 1990 to 1995 in the state of Michigan, USA where he majored in Speech Communication and minored in Native Studies and Small business! He also played professional Ice Hockey in the UK, England from 1995 to 1997! He has been married for 23 years to his beautiful wife Heidi and was blessed with 2 beautiful Children, Sky who is 16 and Justin who is 13! Justin was taught by his elders and is a firm believer that everyone has a gift and something to offer one another! He also believes in and was blessed to be taught about the canoe from his dad, Uncles and Aunties, and the teachings are important in family, in life and in business. The elders say "when we pull in the canoe, we must pull together as one, leave all negativity on shore, honour the spirit of the canoe and all who are pulling with you, work together with one heart, one mind and one spirit , if you can do that, a great journey lays ahead." Justin's father said to him "as a Nation and as individuals we have to be humble and resilient like the water and never look back, in life there are no mistakes only learnings." Justin currently is co-owner of Alpha Dry Wall, and owner of Talon Sky Ventures Limited Partnership and believes in his people and his Nation and has seen great change from when he was a young boy to today. When he was a boy the Nation was 80 percent unemployed and today we are less than 5 percent unemployed, of which he commends his late father and former Chief Leonard George, Mathew Thomas, past Chiefs and Council, the elders and members as we have become much healthier, and much more prosperous and back when Justin was a child there was 2 staff and today there are almost 200 staff working for the Nation! Justin is excited and knows there is work to be done and is excited about working for and with his People once again! One of Justin's favourite quotes is " Alone we may go faster but together we go further" , unknown author